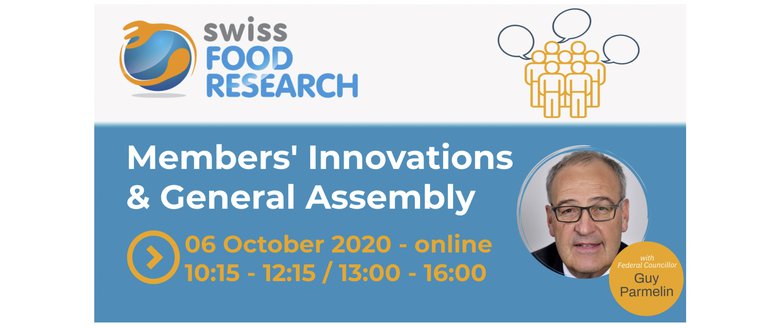 Swiss Food Research Members' Innovations & General Assembly 2020
(Members only)
At the General Assembly, the members of Swiss Food Research will look into the future and the new opportunities that arise for turning innovative ideas in successful products.
Members will have the opportunity to pitch their innovations on the "Main-Stage" and present them in virtual booths - if you like to present your innovation here please get in touch with us.
Federal Councillor Guy Parmelin will participate as a guest speaker and will also use the opportunity to learn more about your innovations and the innovative power of the Swiss Agro Food community supported by the Swiss Food Research network.
Program:
10:15 -12:15 Members' Innovations
Welcome address by Federal Councillor Guy Parmelin
Pitching of 15-20 innovative solutions - Presentation of innovative & new products, technologies or services from members for members
Individual virtual exploration of booths – possibility for individual interaction with presenters & exhibitors
12:15 – 13:00 lunch break
Possibility to continue virtual visits of the different booths, discuss with colleagues and interact freely
– It is the time to discover the possibilities of the digital platform -
13:00 – 16:00 Presentations & General Assembly
Introduction to the Swiss Food & Nutrition Valley - Fathi Derder, CEO of Swiss Food Nutrition Valley
Moving Towards a Sustainable Swiss Food System: An Estimation of "The True Cost of Food" in Switzerland and Implications for Stakeholders, Alessa Perotti (MSc.), ETH
General Assembly of Swiss Food Research – Agenda will be provided separately. Besides classical Assembly topics you will learn about the Innovation Booster and about the strategy how we propose to tackle the future and what services we like to offer.
After the registration, pitching companies and/or companies with virtual booths will receive more information about the procedure of the pitch and the installation of the virtual booth.
In advance we will provide our members with specific and easy to apply guidelines how to move in the virtual rooms of this unique online conference.
Please note: Each participant has to register individually.
For Presenters of innovative solutions:
Please register one person within the company if you like to pitch and/or exhibit an innovation in a virtual booth.
All other persons from the same company should register as "I participate in virtual assembly".
Registration