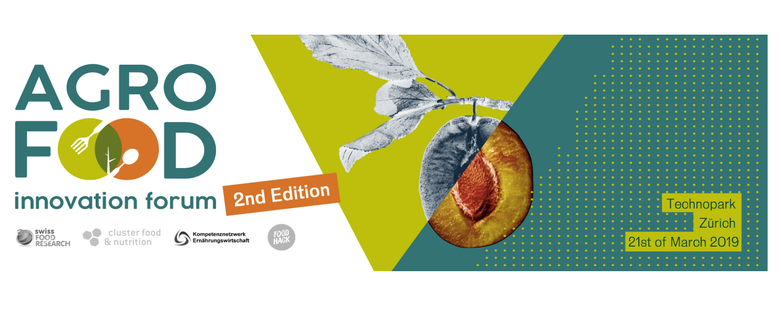 2nd Agro-Food Innovation Forum
4 network organization join forces to bring together the best of Switzerland's Agro-Food Innovation Ecosystem:
Swiss Food Research, Kompetenznetzwerk Ernährungswirtschaft, Cluster Foods & Nutrition and FoodHack.
The "Agro Food Innovation Forum" offers a professional exchange platform for the further development of ideas and to exploit potentials, with companies, research institutes, organizations and start-ups.
Around a start-up exhibition and a pitching session, participants will hear and learn from innovation-driving professionals, about value adding science, benefit from failures and find tools to better protect and use key values.
---
Program
9:00
Doors opening and welcome coffee
10:00
Opening Agro-Food Innovation Forum 2019
10:10
Welcome & Opening Session
Promoters of the Agro-Food Innovation Ecosystem
10:30
How science drives value boosting innovation
Prof. Erich Windhab, ETHZ
11:00
Why to fail in an innovative environment?
Fireside chat – Insights from 2 Food Entrepreneurs
Réginald Bien-Aimé, FuckUp Nights Coordinator in Switzerland and Serial Entrepreneur
11:40
Start-ups Pitching Session – Part 1
12:30
Lunch
14:00
Start-ups Pitching Session – Part 2
15:15
Start-ups Exhibition Zone – 1 to 1 contact
16:45
How to use Intellectual property rights intelligently, Traps, Dos & Don'ts
Ute-Christine Konopka, thinksafe
17:15
Wrap-up & Closing
Peter Braun, CEO Swiss Food Research
17:30
Apéro & Networking
---
Conditions
Exhibiting start-up, incl. exhibition booth, pitching session, access for 3 - CHF 180
Single acces for members of organising networks - CHF 180
Single access for non members - CHF 480
See also factsheet for exhibiting start-ups.
PROGRAM 2019
START-UP FACTSHEET
Memberarea
Contents and further information of all events. Members only.